January 22 started out like any other day. The air was cool, crisp, and still as I walked to the truck to leave for school. I w
ish I had time to stay out here and enjoy it.
As I drove over the gentle prairie hills between Chickasha and Norman, my mind was astir from my morning reading. Persecution. Faithfulness unto death. Changing the world. (I've started reading the Great Controversy again.)
I'm not going to pretend. I don't have that kind of strength. How am I to change the world when I can't even change myself? The work ahead seemed to rise up as an insurmountable obstacle, a mountain whose summit was very far off and difficult to reach. And who knew what today might bring?
Then I felt a gentle rebuke.
You're looking at it from the wrong perspective. Today, I'm only asking you to do one day's worth of work for Me. Can you do that? Can you give Me today, and let Me handle the future?
"Yes."
We'll do it together…
***************************************
Fast-forward 4 hours…
Computer Organization class had just been dismissed, and several friends and I were talking after class. As we were laughing and talking, I felt a vibration in my pocket. I pulled out my phone to find a new message from "OU Emergency Info." (OU has a mass alert system that notifies students via text message when there's an emergency.)
It could not be. It could not be.
"OU emergency: Shooting on campus. Avoid Gould Hall. Seek immediate shelter in place."
(Don't worry - this story has a happy ending. But I didn't know it at the time.)
My face must have registered my shock, for one of my friends asked me what was wrong. (I was one of the first students to receive the text alert.) I could not speak; instead, I showed my classmates my phone screen. We unanimously decided to stay right where we were, in the 4th floor of a building about 7 minutes' walk from Gould Hall. An OU official came and told us that the campus was under lockdown, and that we would do best to stay in the classroom until things were sorted out.
It was hard to find up-to-date information on what was going on outside, but we were okay, so we all began calling or texting parents and friends to let them know we were safe. We texted other classmates and friends to see if they were okay. Finally we found a live video stream from a news helicopter, and the four of us gathered around my laptop to watch it.
What we saw was astonishing. Police cars lined the South Oval and completely blocked the streets. Gould Hall was cordoned off with yellow tape, and police officers were everywhere. SWAT teams were on the scene as well. At one point we saw a group of police and SWAT team members cautiously entering Gould Hall, every one of them carrying an assault rifle.
View from a helicopter (photo: News9)
"I can't believe this is happening on our campus," one of my friends commented. "This has happened at other schools, but it seems impossible that it's happening here."
This seems so unreal…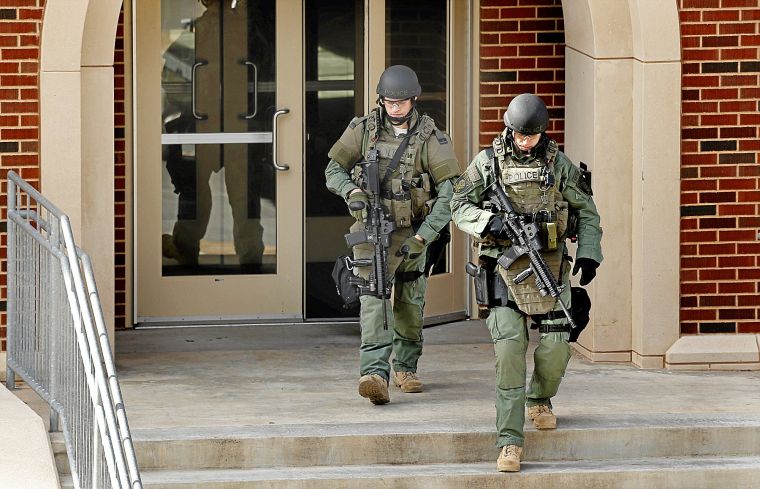 Not your everyday police officers (photo: Tulsa World)
Police cars lining the Oval (photo: KFOR.com)
Time passed, and we sifted through the many conflicting reports coming in from the internet. Finally, though, it began to become clear that no shooting had actually occurred. Multiple people had reported hearing gunshots, but no shells or bullet holes were found, no one was injured, and no students were suspects. The lockdown was lifted, and we could finally leave to go eat lunch.
At 1 pm, OU President David Boren announced in a press release that it had been a false alarm. Classes in the afternoon continued as usual, and Gould Hall was reopened.
(The official OU report is here.)
************************************
Driving home that evening, my mind kept replaying the events of the day. There were many things to ponder, but one question stood out. What if it hadn't been a false alarm? What if one or more of our students had died today?
Life is a gift. Every day is a gift that we must not take for granted.
This day was a gift…
And a still, small voice reminded me,
We made it through the day, together.
Perhaps the best (and most important) moments of life are rarely if ever
experienced
solo. They are lived
together.
(With a heavenly Companion, even in
absence
of human companions.)
I don't know what the future holds. But be it joy or sorrow, happiness or tears, success or apparent failure, I know one thing. We will do it together. And we will change the world, one day at a time.